High Quality Kitchen Faucet Water-saving Faucet Device Mist flow
Product Info:
Technical Parameters:

Name

Water saver devices

Model

SK-WS803

Water Saving Ratio

> 80%

Color

Silvery

Material

brass, stainless steel, Chrome Plating

Application Scope

M24x1,Male Thread

Water Pressure Range

1-10kgf/cm2

Water flow

<2L/min (0.8-1.0Mpa ) Steady and Reliable

Net weight

30g

Gross weight

35g

Packing size

inner box:7cm*2.5cm*3cm outer box:32cm*15cm*8cm

Warranty period

5 YEARS
What is this Water Saver ?
Water Saver has adopted the newest modern automatic limiting flow technology,
including the constant flow device, the buffer, big size spring, sealed piston, etc.
The automatic detection device is composed of the filler block of valve core and the floating piston.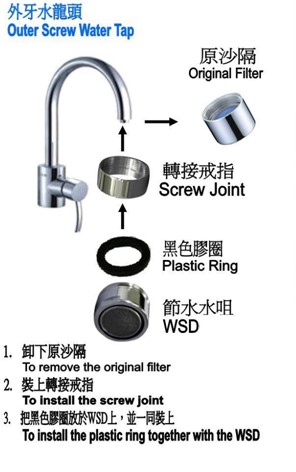 How does it works?
a. When water pressure increases, and the spring has been compressed, the filler block will move upwards with
the piston together; The valid area of water channels decreases, the water flow decreases.
b. When water pressure decreases, the filler block will move reverse direction with the piston together. The valid
area of water channels increases, the water flow increases.
c. The filler block will move up and down with the piston according to the change of water pressure and make water flow keep a relativistic stabilization. So it can achieve constant flow goal.
d. The O ring sealed piston make sure all water flow by water channel, improving the sensitivity of detection.
Spring can make the piston response quickly according to the changing of water pressure.
It will save more water than other kinds of water saver.
Advantages
1. Male thread 15/16-27(M24x1), model as in the picture.
2. Fully aerated, round, smooth and straight flow, no side spray and no splash
3. Water saving ratio: >50%
4. water flow: 3.5-4L/min (0.8-1.0Mpa ). Steady and Reliable
5. Recommended for hands washing basins in public places, and other areas with a need to save water
6. Easy to install and easy to clean
Packing & shipping

Company
For more info, pls feel free to contact with us as following:
Contact person: Amber Shen
Tel:0086-592-5281180 Mob: 0086-15960840587 Fax:0086-592-5281181
E-mail: sk804(at)skfirm.com
Website: www.skfirm.com