Instant Boiling Water System
Kitchen hot drink machine, also called instant hot drink machine. It is a general term for equipment systems that can heat drinking water to a temperature close to the boiling point in 2 seconds or less for users to drink. Under normal circumstances, it can be heated to 98 degrees Celsius instantly. In foreign countries, instant heating machines are very popular because they are easy to use for making tea or coffee. In 2007, the kitchen hot drink machine entered our country and passed the 3C compulsory certification of the instant hot drink machine under the brand of Insikyi.
We support Instant Boiling Water System that make from insulated Stainless Steel with CE certificates. We have been devoted ourselves to faucets and heating tank for many years. Hope you can give us a chance to work with you.
100 cups of 98°C water can be released per hour, clean water is safe, clean hot water, some models can also provide clean cold water, automatic heating, turn off the control lever > Power consumption is less than a 40 watt light bulb, and each family uses it every day Calculated by 10 cups of water, compared with using a standard kettle to boil water, the cost of using InSinkEasy Water Purification Instant Hot Drinking System is nearly 20% cheaper. The power consumption of boiling water is less than 80% of electric furnace.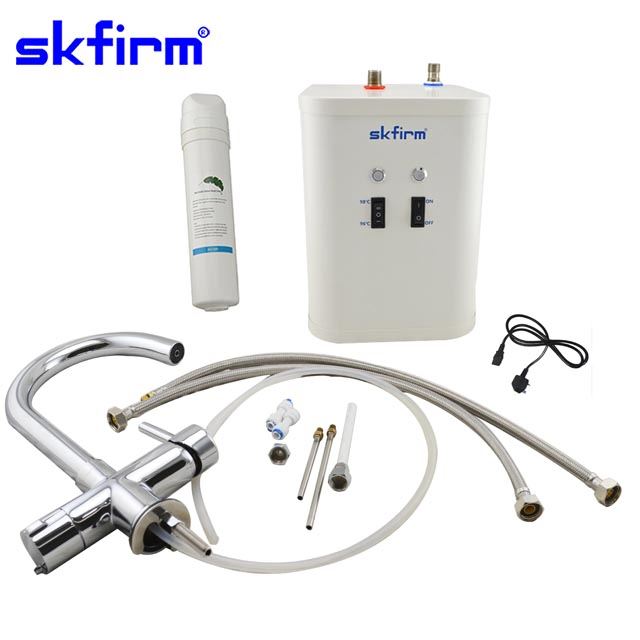 CE Certificates
The Instant Boiling Water Tank makes from insulated stainless steel and boiling water tap makes from brass. This product also acquired the CE certificates. We have been work on Instant Boiling Water System for many years. So we are looking forward to work with you.
The sleek and elegant line of the kitchen faucet of InSink Yi not only makes the kitchen pleasing to the eye, but also brings convenience to today's busy life.
It is easy to install in your existing In the kitchenTake it easy, leave everything to the instant hot drink system!
food and drinks:
Tea, coffee and other hot drinks
Prepare pasta and rice
Hot vegetables for gravy and sauce
Defrost frozen food and heated ice cream spoon
Soaked and dried food
Wash fruits and vegetables
Features:
No matter from the appearance or the convenience of use, the instant hot drink machine is very pleasing to the eye with any kind of kitchen equipment. The elegant colors can perfectly match the most classical to bright decorations. It is suitable for kitchens, bars, offices, leisure places, Community clubs, tea rooms.
Small size kitchen hot drink machine Small and exquisite kitchen hot drink machine.
It is suitable for kitchens, bars, offices, leisure places, community clubs, tea rooms, etc. Small size, can be installed in any narrow space under the sink. The power consumption of the instant heating machine is less than a 40 watt light bulb, which consumes only 0.75 kilowatts per day. It consumes less energy than electric furnace heating. Because it only heats the water needed, it saves time, effort and water, and saves your expenses. Once you install the instant hot drink system from InSinkyi, you can hardly imagine how you would live without it. With it, you can get more rest time, it will become an indispensable part of your daily life.
Skfirm team

Springking Industry Co.,Limited has been specialized in drinking water faucets field since 2007, It's a manufacturer specializing in research and development, production, sales and service.Our company has a complete production line ,including gravity casting workshop, CNC machine tool workshop, polishing workshop, assembly workshop and testing laboratory.
Our company has 200 employees.So far, our products are strictly controlled to ensure that all products meet international standards. We have also passed CE, ROHS, UL, WRAS certificates, far beyond excellent innovation and design capabilities.The products used in kitchens, cafes, restaurants, hotels, public areas.
We provide OEM and ODM services to our customers. Because of excellent innovation, high quality design concept, strong production capacity. Our excellent products have been exported to Europe, North America, Australia and Middle East. especially popular with UK, Germany and Italy, etc.
We will strive to be your best supplier. We sincerely welcome friends from all over the world to visit our company and are pleased to consider special requirements.
We believe that our quality and service will bring success to every customer. We sincerely welcome your cooperation and look forward to establishing business relationship with you.