Hot & cold and filetred three way for kitchen sinks faucet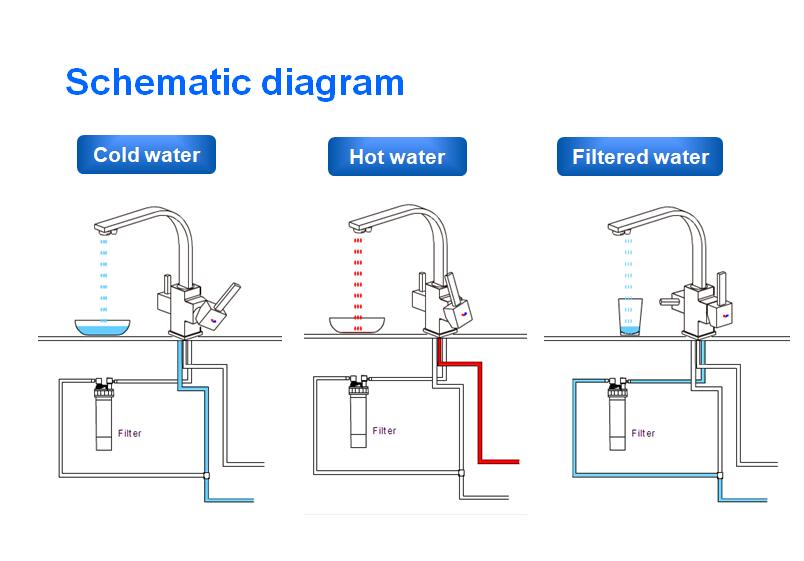 2. Why choose it?
1). Health
The importance of drinking plenty of clean, fresh water everyday is well known. The 3 way system filters out
potentially harmful contaminants from your water supply.
2). Design
The 3 way is a filter system that not only works incredibly well, but also looks stunning. There is simply no
substitute.
3). Environment
No wasted water; one litre of tap water becomes one litre of filtered water. You will never again need to
purchase drinking water in polluting plastic bottles.
4). Simplicity
With just a single beautiful tap on your bench top, enjoy hot, cold and great tasting filtered water on demand.
Everything else is stowed neatly under the bench where it belongs!
5). Price
While the initial price for the 3 way system may be more than for some other systems, when those systems
are put alongside the outstanding design, quality, durability and convenience of a 3 way system, there really
is no compare.
3.Advantages
1. Finish: durable thick layer brass, polished finish resist corrosion and tarnishing.
2. Body: made of heavy solid brass for durability & reliability. Don't choose light weighted faucet.
3. Valve:drip free ceramic disc valves for long life and smooth feel.
4.Quality Assurance
* Low-lead, lead-free or dezincification brass(D.R. brass) are available;
* 100% leaking test before shipment;
* Have been cycle tested by 100,000 times under 125PSI(8.6 bars) high water pressure.
Technical Parameters:

Model

SK-3335

Material

Brass body Low-lead

Water pressure

0-10/KG

Temperature

0-60 Degree

Certificate

CE&ROHS approved

Packing size

59.4CM*46.5CM*23.7CM

Gross weight

2.365KG

Warranty period

5 YEARS
Packing & shipping
Other hot products