Universal Splash Filter Faucet, 720° Rotatable Faucet Sprayer Head with Durable Copper, Anti-Splash, Oxygen-Enriched Foam, 4-Layer Net Filter, Leakproof Design with Double O-Ring
Product parameters
| | |
| --- | --- |
| Model | SK-WS806-3(Male) |
| Brand | SKfirm |
| Color | Chrome |
| Material | Brass and Plastic |
| Warranty | 1Years |
| MOQ | 300Pcs |
SK-WS806-3(Male)
size
SK-WS806-3
SK-WS806-3
【720° Rotate】- Rotate the water outlet 720°, it is more convenient to wash your face and gargle!
【2 Switches – 4 Layers – Double Gaskets】- Two kinds of water outlet rotary switches, oxygen-enriched foam, splash-proof water, four-layer net filter to remove impurities, and double gaskets to prevent dripping.
【Industrial Quality For Commercial Duty】- Sturdy Copper, ABSbody for extra durability and longevity. This item also includes reinforced double O-ring valves that ensure that all leaks are prevented.
【Safe & User-Friendly Design】- Splash filter faucet introduces air into the water stream to produce a larger and whiter stream that is SOFT TO TOUCH and NON-SPLASHING. This product is guaranteed to keep your customers or employees happy. Suitable for restaurant, laundry & back yard.
Feature
720° two-way faucet filter that can be rotated at will.
Two modes of water can be obtained by rotating,
making it more convenient to wash your face,
rinse your mouth and wash the basin…
Universal
easy to install,
suitable for internal thread inner diameter 23.5-24mm
Related products
SK-BS809(Female+Male)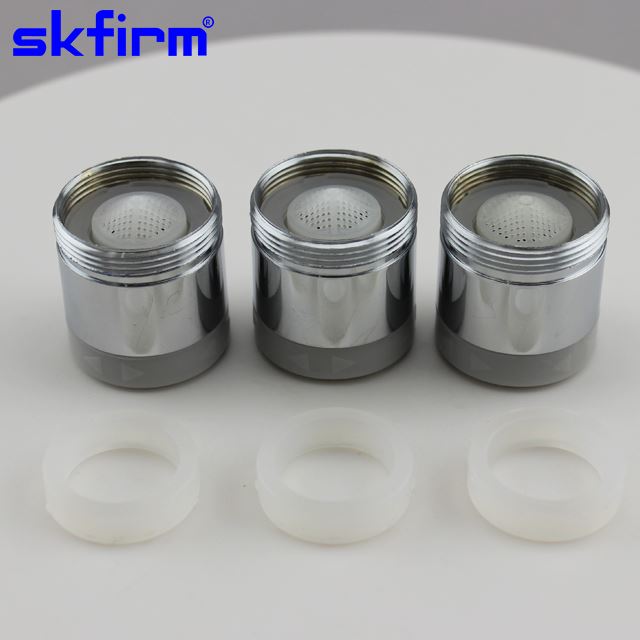 SK-BS806
SK-BP806-2(Male)
SK-BP806-1(Male)
SK-SUS806
SK-SUS807
About Us
---