Swivel Pull Down Spout Tap Single hole Faucet
Attributes:
Our 3 way water filter tap has a set of outstanding features that make it stand out in the field of kitchen taps:
1. SUPERIOR MANUFACTURING QUALITY: This faucet is made of high quality stainless steel to stand the test of time. It is corrosion-resistant, rust-resistant, and designed for extended life.
2. Triple function: This faucet can not only dispense hot and cold water, but it is a 3-in-1 miracle. It provides hot, cold and filtered water, making it the perfect versatile addition to any kitchen.
3. Stylish and Modern Design: With its modern design, this faucet not only offers functionality, but also functionality. It's a style statement. It blends seamlessly with any kitchen decor and enhances the aesthetics of your space.
4. User-friendly operation: The faucet has an ergonomic handle for easy control of the water temperature and flow. Switch between hot, cold and filtered water with just a flick of the wrist.
5. Easy to install: This faucet is specially designed for DIY enthusiasts, it comes with simple installation instructions and all necessary hardware, making installation a breeze.
6. Eco-Friendly Filtration: The built-in water filter not only ensures your water tastes great, but also reduces plastic waste by eliminating the need for bottled water.
7. Save money: By providing filtered water at your fingertips, this faucet can help you reduce the cost of buying bottled water and reduce energy consumption by using less boiling water.
8. Healthier Living: The advanced filtration system removes pollutants and impurities, ensuring the water you drink and cook with is clean and safe for your family.
Now that you're familiar with its attributes, let's take a deeper look at the fascinating features of our 3-Way Sink Faucet Kitchen Sink Faucet.
Function:
1. Triple distribution system: This 3 way faucet features the ability to precisely deliver hot, cold and filtered water. It's as if you have three faucets in one for all your water needs.
2. Advanced Filtration Technology: This faucet is equipped with cutting-edge filtration technology to ensure your water is pure and free from chlorine, lead, heavy metals and other undesirable elements.
3. Temperature Control: Separate handles for hot and cold water enable you to adjust the water temperature to your liking. No more accidental burns or icy shocks.
4. Smooth operation: The handle moves effortlessly for precise control of water flow and temperature. This faucet embodies user-friendliness.
5. 360 Degree Rotating Spout: The high arc spout can be rotated 360 degrees, providing maximum flexibility for your kitchen sink. It's perfect for filling large pots, and the swivel action directs water exactly where you need it.
6. Easy maintenance: With the quick-change filter element, changing the water filter is a breeze. No special tools or plumbing expertise required – simply unscrew the old cartridge and screw on the new one.
7. LED Indicator: The faucet is equipped with an LED indicator to remind you when the water filter cartridge needs to be replaced, ensuring you always get clean water.
8. Drip-free performance: The ceramic disc valve guarantees a tight seal, preventing leaks and drips, saving water and your patience.
9. Eco-Friendly: By reducing reliance on bottled water, this faucet can contribute to environmental sustainability by minimizing plastic waste.
10. Space-Saving Design: The compact design ensures your kitchen sink area stays organized and functional, leaving more room for food prep and other tasks.
Product description
popular 3 way water filter tap is suitable for any filter system (filter system connection varies) Unique 3-way tap distributes hot/cold water as well as pure water using the second lever Stylish and elegant chrome finish with modern design.
Two independent waterways, so that the filtered water will never be polluted.
Different nozzles are used to dispense pure water.
Excellent quality using ceramic valves.
Beautiful appearance, strong and reliable.
Versatile so it saves space and clutter by eliminating any other holes in your sink Seamless Mesh Very easy to replace your current faucet.
Two independent waterways, so that the filtered water will never be polluted.
High quality ceramic valve.
Seamless and very easy to replace your existing kitchen faucet.
popular 3 way water filter tap is suitable for most under sink water filter systems (filter system connections vary).
1/2″ female connection for hot and cold (new hose supplied).
1/4″ connection for filtered water.
Sinkhole maximum: 35 mm (3.5 cm).
Not recommended for gravity feed systems; minimum pressure is 0.5 Bar (7.2 PSI), and maximum pressure is 11.5 Bar (166 PSI).
Applications:
The three-way water filter faucet kitchen sink faucet is perfect for a variety of applications, including:
Home kitchens
Offices
Restaurants
Cafes
Bars
School
Hospitals
Gymnasiums
The popular 3 way water filter tap is an off-the-shelf three-way water and over-water faucet that allows you to dispense hot, cold and water from one tap, for those looking to maintain a classic look, this solid double handle The 2-way kitchen faucet is an excellent choice! It is an excellent choice for modern kitchens, it increases the visual effect of the surrounding environment, and plays a great role in providing pure water all in one.
Say goodbye to drilling a new hole in your sink for a secondary faucet!
Traditional kitchen faucets have worked the same way for generations, but now the 3 way water filter tap can divide hot, cold, and excess water from the same faucet, changing the rules. In addition to this unique feature, the 3-way faucet eliminates the need for an additional faucet solely for filtering water and eliminates clutter around the sink, keeping the kitchen in its pristine condition.
High Quality Material: The 3-way kitchen faucet is made of 304 stainless steel. And a three-flow kitchen faucet with a ceramic cartridge and aerator for a steady flow of water, splash-free and drip-free operation.
3-in-1 kitchen faucet: double handle design, independent filter water and hot and cold water handles. So it is not necessary to drill an extra hole in the sink. With the 3-in-1 faucet, you can save space and money.
Flexible Adjustment: The three-way kitchen faucet is equipped with a 360-degree swivel spout and a comfortable enough height for easy use in large or double sinks.
EASY INSTALLATION: Two standard 1/2″ hot and cold stainless steel braided connecting hoses and one 1/2″ drinking water hose (one 1/4″ adapter included). Universally suitable for most water filtration systems.
Due to the high-quality 304 stainless steel, the three-flow faucet is easy to clean, anti-corrosion and anti-rust.
3 way water filter tap is not only elegant in appearance but also very practical.
Product Features
Low-lead brass construction with superior rust-resistant finish .
Two outputs-mixture of hot water and cold water, filtered water, two lever mixer tap suitable for all water filter systerm.
A good ceramic cartridge lets you conveniently open or stop water flow from the spray head
Standard fitting stainless steel hose connections,Single Hole Installation,suitable for hot and cold water filter mixer tap.
Dual-lever Design for Effortless Temperature and Flow Control.
Water pressure tested for industry standard.

Easy technology to installation and disassembly yourself with household tools.
Technical Information
Product details
(1) Two Independent Outlets: A triflow kitchen tap with independent Filter inlet for Drinking water, and another for hot and cold water.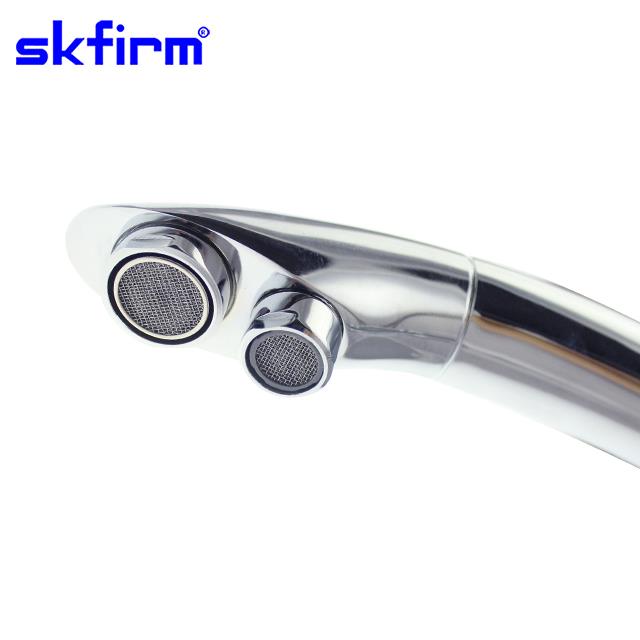 (2)H59 brass :Durablity And longer Life,All-brass faucet body and handle construction.
3) Ceramic cartridge-Long lifetime,good tighness, and high temperature resistance.
Our Advantage
Great value
We promise that we will offer you the best price, please feel free to contact me if you was interested in our products.
Unmatched Quality
Combing precision engineering with premium materals and components, this Commercial Style Faucet offers durable functionality and lasting performance. All Skfirm kitchen faucets are cover by 5 Years Warranty, ensuring that we stand behind our products with the highest standards of quality.
Best Customer Sevice
We are dedicated to providing the best customer service, we are offering not only products but also advising solution and strategy for you.
Packing Details
(1)Standard packing: The tap is covered with a soft cloth bag, then it's covered with a bubble bag for further protection. The whole item is packed inside a strong corruguated box.
(2)All mounting hardwares was included:1 Three Way Faucet 2 Hot and Cold Stainless Steel Hoses 1 Water Filter Adapter 1 Rubber Gasket 1 Stainless Steel Gasket.
If you want to know more details , please do feel free contact to me as following.
Contact person:Cherry Chen
E-mail address:sk806@skfirm.com
Skype:springking806
Website:www.skfirm.com