Kitchen faucets have come a long way over the years, from simple single-handle designs to more complex models with multiple functions. Among the most popular designs are fashion Pull Out 3 Way Kitchen Faucet, which offer convenience, versatility, and efficiency. In this article, we'll explore the evolution of these faucets, from their early days to their modern, cutting-edge designs.
I. The Early Days of Pull-Out Kitchen Faucets
Pull-out kitchen faucets have been around for many years, but early models were often bulky and awkward to use. These early faucets typically featured a separate spray head that could be pulled out from the main faucet body, but the design was often clunky and difficult to maneuver. These early models were also prone to leaks and other issues, making them less reliable than modern designs.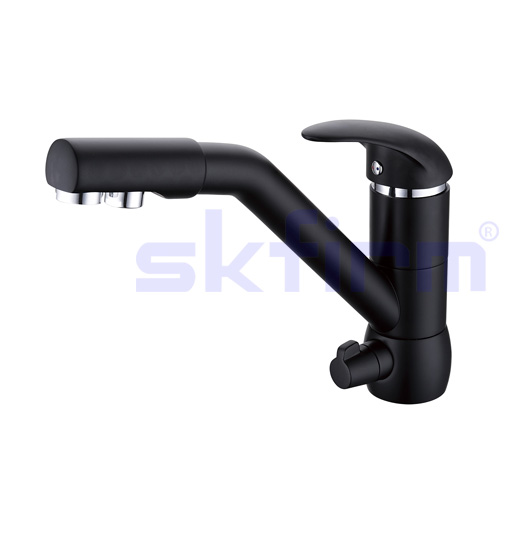 II. The Rise of 3-Way Kitchen Faucets
In the 1990s, a new type of pull-out kitchen faucet emerged: the 3-way design. These faucets featured a spray head that could be pulled out from the main body, but they also included a separate tap for filtered water. This innovation was a game-changer for many homeowners, as it allowed them to have clean, filtered water on demand, without the need for a separate filtration system.
III. Modern Designs and Technologies
Today, fashion Pull Out 3 Way Kitchen Faucet are more popular than ever, and they continue to evolve with new designs and technologies. Many modern faucets feature sleek, minimalist designs that blend seamlessly into contemporary kitchen settings. Some models even include touchless technology, allowing users to turn the water on and off with a simple wave of the hand.
IV. Innovative Features
One of the most innovative features of modern pull-out 3-way kitchen faucets is their ability to switch between different spray patterns. Many faucets offer multiple spray settings, from a powerful jet stream to a gentle mist, making it easy to customize the water flow to your specific needs. Other models feature magnetic docking systems, which keep the spray head securely in place when not in use.
V. Choosing the Right Faucet for Your Kitchen
If you're in the market for a new pull-out 3-way kitchen faucet, there are a few key factors to consider. First, think about your budget and the features you need. Do you want a basic model that simply provides hot and cold water, or are you looking for a more advanced faucet with multiple spray patterns and touchless technology?
Next, consider the style of your kitchen and choose a faucet that complements your decor. Many modern faucets come in a range of finishes, from classic chrome to sleek black or brushed nickel.
Finally, think about the quality of the faucet and look for models that are built to last. Look for faucets with ceramic disc valves, which are more durable and longer-lasting than traditional rubber seals. Also, be sure to choose a faucet with a solid brass body, which is more resistant to corrosion and other types of wear and tear.
I
n conclusion, fashion pull-out 3-way kitchen faucets have come a long way since their early days, and today's models are more innovative and cutting-edge than ever. With their sleek designs, advanced technologies, and versatile features, these faucets are a must-have for any modern kitchen. Whether you're a professional chef or a home cook, a pull-out 3-way kitchen faucet is an essential tool that can make cooking and cleaning a breeze.
Related Products