Welcome to the fascinating world of the three way water tap, where convenience, efficiency and water saving are perfectly combined. As a homeowner, you're always looking for ways to make your life easier while reducing your environmental impact. 3 way filtered water tap is an excellent innovation that serves both purposes.
This article is your comprehensive guide to understanding three-way faucets, their benefits, the installation process, and how to maximize their efficiency. We'll also review popular models on the market and guide you on how to choose the right faucet for your needs. So, whether you're looking to upgrade your kitchen accessories or become more water efficient, this article is for you.
Consider this your one-stop resource for all things three way water tap related. Let's take a deeper look.
Know the function of 3 way filtered water tap
At the heart of this three way water tap is the mixer tap, designed to provide hot, cold and filtered water through separate outlets. Hot and cold water outlets are combined in one nozzle, while filtered water is provided through separate nozzles.
These faucets are often equipped with advanced water filtration systems that remove impurities from drinking water. The result is clean, healthy water directly from the tap, without the need for a separate filter pitcher or bottled water.
This unique design eliminates the risk of cross-contamination between filtered and unfiltered water, ensuring your drinking water remains pure at all times. But the benefits of a three-way faucet go far beyond simple convenience.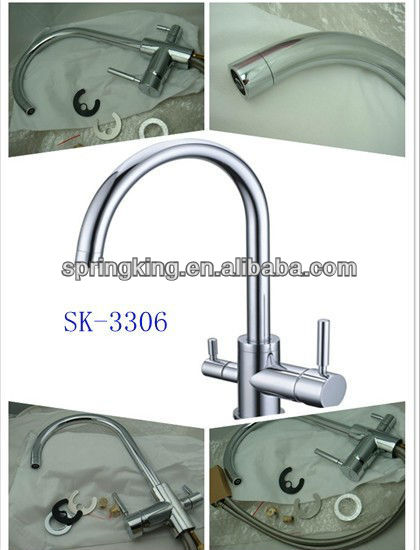 Benefits of using three way water tap
One of the main advantages of a three-way faucet is that it provides instant access to filtered water, eliminating the need for a separate water filter or bottled water. Not only does this save time and space in your kitchen, it also reduces plastic waste and contributes to a healthier environment.
Plus, with the 3-way faucet, you can enjoy the luxury of hot, cold and filtered water at your fingertips. That means no more waiting for a kettle to boil or water to cool in the fridge.
Additionally, these faucets are designed with high efficiency to minimize water wastage. This can help you reduce your water bills and conserve water, a precious natural resource.
How to Install a Three-Way Faucet
Installing a three way water tap is not as daunting as it might seem. With a little DIY knowledge and the right tools, you can install a faucet yourself. However, if you're unsure or uncomfortable with the process, it's always safer to hire a professional plumber.
The first step is to remove the existing faucet and prepare the sink area for the new installation. This usually involves turning off the water supply, removing old faucets, and cleaning the sink area.
Next, you'll need to install the new faucet and connect it to the hot, cold, and filtered water lines. This process may vary depending on the exact model of faucet, so be sure to follow the manufacturer's instructions carefully.
Maximize efficiency with 3-way faucets
To maximize the efficiency of a three way water tap, proper use and regular maintenance are essential. The first step is to make sure you're using the right water filter for your faucet. This will ensure optimum filtration performance and extend the life of your faucet.
It is also important to use the different spouts of the faucet correctly. For example, use the filtered water outlet for drinking and cooking, and the unfiltered hot and cold water outlet for cleaning and other household tasks.
Finally, consider installing water-saving devices on your faucets. This further reduces water waste and increases efficiency.
Maintenance tips for three-way faucets
Regular maintenance is key to ensure the life and efficiency of your three way water tap. This includes regular cleaning, changing water filters according to the manufacturer's instructions, and checking for leaks or other problems.
If you notice any problems with your faucet, it's important to fix it right away. This may involve tightening loose parts, replacing worn parts, or even calling in a professional plumber if necessary.
By taking good care of your faucet, you can ensure its peak performance and enjoy its benefits for years to come.
A comprehensive review of popular 3-way faucet models
There are many 3 way filtered water tap models on the market, each with its unique features and specifications. In this section, we'll review some of the most popular models and discuss their pros and cons to help you make an informed decision.
How to Choose the Right 3-Way Faucet for Your Needs
Choosing the right 3 way filtered water tap for your needs depends on a variety of factors including your water habits, kitchen design, budget and personal preference. Consider factors such as faucet design, function, ease of installation, and maintenance requirements.
The Future of Water Efficiency: Three-Way Faucet Innovations
The three-way faucet is just the beginning of water-saving innovations. As technology advances, we can expect to see more efficient and convenient water solutions in the future.
In conclusion
In conclusion, the 3-way faucet is a valuable addition to any home, offering convenience, efficiency, and water conservation. By understanding its features, benefits and maintenance requirements, you can get the most out of this innovative kitchen appliance. So are you ready to upgrade your kitchen with a 3-way faucet?
SKFIRM is a company that focuses on designing, manufacturing and selling high-quality kitchen faucets. Using advanced technology and materials, our ionizer faucet, superior 3 way faucet and other products are carefully manufactured and strictly tested to ensure that each product is of superior quality and long-lasting durability. You can buy directly with confidence.
Related Products